Top 8 Franschhoek restaurants to visit in 2018
It's not difficult to find good food in Franschhoek. The gastronomic standards are very high and restaurants are always competing to offer guests the best in local gourmet food. The problem is that with so many fantastic restaurants and new ones popping up everywhere, it is getting more and more difficult to choose the right one. In this blog, we'll try to make your decision slightly easier by giving you our pick of top Franschhoek restaurants to visit in 2018.
*Update: Dutch East has closed down and has been replaced by Bovine. We are sad to say goodbye to this wonderful restaurant but we have heard great things about Bovine and we'll be sure to review it for our next top restaurants list. In the meantime, we will cherish the memory of Dutch East by keeping it in our top 8 list.
8. *Dutch East 
For traditional South African food with a Dutch and eastern twist, try Dutch East in Main Road. The food and service are excellent and they offer some interesting wine varietals, like gewürztraminer and bukettraube. The TripAdvisor community raves about the Steak Tartare and we can say with confidence that it lives up to the hype.
7. Pierneef à La Motte
Inspired by the art of Jacob Hendrik Pierneef (1886 – 1957), this stunning fine dining restaurant on the gorgeous La Motte estate never fails to impress. With breathtaking mountain views, exquisite traditional Cape Winelands cuisine and award-winning wines, Pierneef à La Motte truly epitomises all the wonderful characteristics of the Winelands.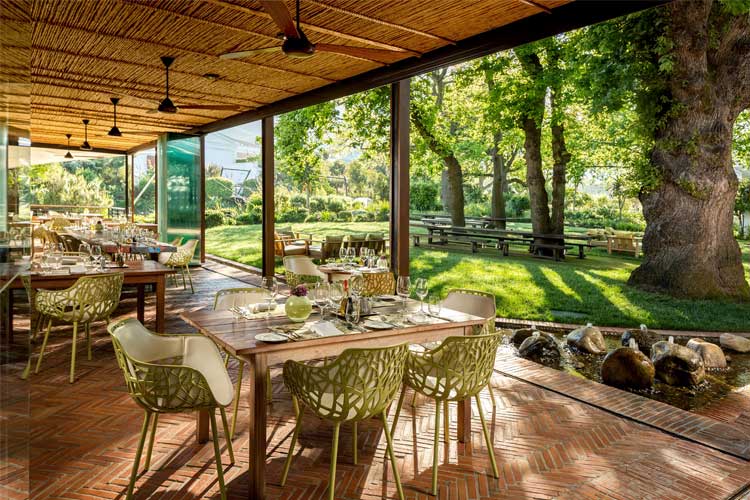 6. The Werf Restaurant at Boschendal
Its honest food and country-chic ambience make The Werf Restaurant a favourite among both tourists and locals. Your culinary experience here can be as formal or informal as you want, with everything from romantic picnics and family lunches to stylish events and weddings. Take some time to wander around the beautiful garden to see the fresh produce that gets grown especially for The Werf's seasonal farm-to-table menu.

5. The French Connection
Another gem on Main Road, The French Connection, offers country-style French cuisine in a warm and cosy environment. You can't go wrong at The French Connection. Every item on the menu is absolutely divine and the wine list boasts some very special wines. We love it for its high culinary standards and its unpretentious bistro feel. Try the mussels and the veal schnitzel!
4. Chef's Warehouse at Maison
Liam Tomlin's award-winning tapas-style fine dining concept made its way to the Franschhoek Valley in December 2017, and it is sensational. Led by one of his protégés, David Schneider, the Chef's Warehouse at Maison offers a fun and delicious culinary experience. At R700 you'll be able to experience eight plates of "global" tapas for two, with courses ranging from fabulous New-York-style pastrami to proudly South African game dishes.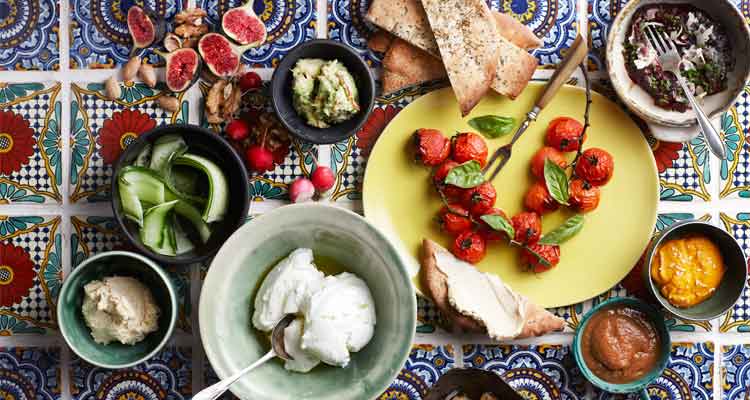 3. Ryan's Kitchen
For anyone interested in the process of preparing incredibly delicious – yet approachable – dishes, a visit to Ryan's Kitchen is a must. Here the fine South African cuisine is just one part of the experience that this local chef with his Michelin-accredited culinary education creates. The interactive kitchen and table environment makes it easy to see how Chef Ryan combines the freshest, locally-sourced ingredients to create a delicate balance of tastes and textures (that you get to enjoy). Ryan's Kitchen is small and there's a high level of personal interaction, which makes it a great place to eat and learn.
2. Foliage
You cannot help but feel very close to Franschhoek when you visit Foliage. That's because this unique restaurant is run by forager and nose-to-tail guru Chris Erasmus, and he builds his menu around what is growing in and around Franschhoek at that moment. With everything from locally-sourced, free-range game to mushrooms foraged in the surrounding Winelands, Foliage truly embraces the 'field-to-fork' ethos and the resulting dishes are incredible. Time and again we get inspired by these decadent meals and the man who envisions them. We highly recommend this exceptional restaurant to anyone looking to get a real taste of Franschhoek.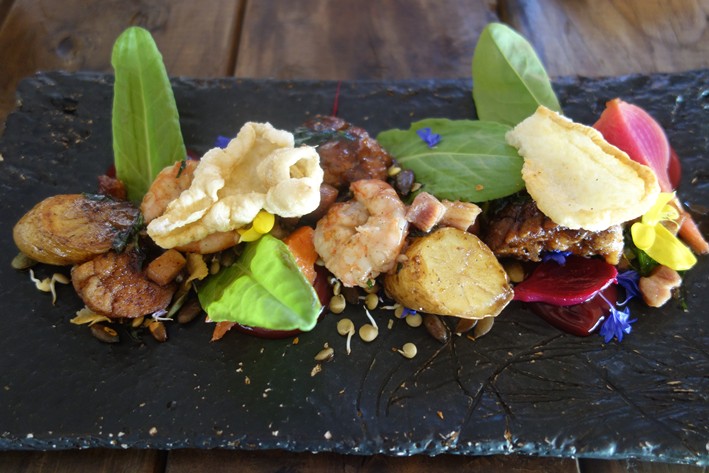 1. La Petite Colombe
With a sister restaurant ranked as the 7th best restaurant in the world (TripAdvisor Travelers Choice Awards), La Petite Colombe had a lot to live up to when it opened its doors in August 2017. Of course, the legendary chef-restaurateur Scot Kirton and his team exceeded all expectations with this world-class addition to the La Colombe family. With each course so unique and inspiring, it's no wonder the menu has been described as "dazzling" and "theatrical" by food critics all over. Its undeniably exquisite menu coupled with an atmosphere of relaxed elegance makes La Petite Colombe our top pick of restaurants in Franschhoek.

Stay over
We hope that our list of top restaurants will offer some inspiration for your next visit to Franschhoek. If you still find it difficult to choose one, why not make a weekend of it? Mont d'Or Franschhoek is within walking distance of most of the restaurants on this list and our staff will gladly make recommendations based on your preferences. Click here to check availability, otherwise keep a lookout for any specials here. We look forward to hosting you for your culinary weekend in Franschhoek.