Franschhoek day activities for food and wine connoisseurs, families, and adventurers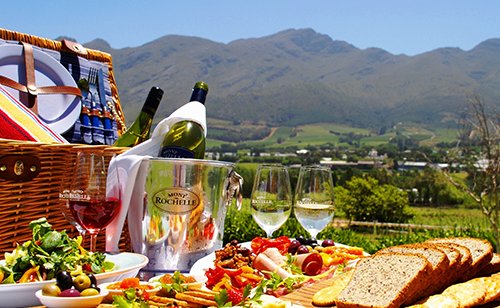 If you're planning a getaway to Franschhoek, why not do a day excursion and experience the area in more depth.
For the foodies and wine connoisseurs: The Franschhoek Wine Tram
If you're a foodie or a wine connoisseur, then you'll know that Franschhoek is in a class of it's own when it comes to wine estates and restaurants. The problem is usually that drinking and driving is illegal and dangerous. Luckily there is the Franschhoek Wine Tram.
The Franschhoek Wine Tram is an upmarket tram that runs between Franschhoek town center and the surrounding wine farms. The pick-up point is an easy, 2 minute walk from Mont d'Or Franschhoek and from there you can just sit back, relax and enjoy your wine tasting worry-free. There are different routes to choose from, so it all depends on your preferences and the time you have available. It's definitely worth making a day out of it, and for that we'd recommend choosing one of the longer routes. Some of them go as far as the Paarl-Franschhoek Valley and there lies even more treats.
For the families: Pearl Valley and Val de Vie Estate
Another gem in the Paarl-Franschhoek Valley is Val de Vie Estate. This picturesque estate nestled in the mountains offers something for everyone, and once you're in it's very easy to get carried away and end up spending your entire day here.

Come join in on the family fun between 10:00 and 15:00 every last Saturday of the month, when Val de Vie opens it's doors for a fantastic market day. Enjoy delicious food, wine and lots of entertainment for the whole family. And it doesn't end with market days. On any other day, take the family to the clubhouse for a delicious meal and a swim in the pool. The kids can entertain themselves in the play area or on the sports fields while mom and dad relax at the spa or play a round of golf at the acclaimed Jack Nicklaus Signature Golf Course. With seemingly endless sources of entertainment, this estate really is a treasure trove in the Winelands, and with only a 20 minute scenic drive between Mont d'Or Franschhoek and Val de Vie, it'll be difficult to find a reason not to go.
For the adventurers at heart: Mont Rochelle Nature Reserve
A mere 7km from Mont d'Or Franschhoek lies the stunning Mont Rochelle Nature Reserve. This mountain reserve is part of the UNESCO declared Cape Winelands Biosphere Reserve and it is a playground for all kinds of adventurers! The well-maintained routes offer some challenging climbs for trail runners and panoramic views for anyone who's just in for a casual stroll.
Mont Rochelle Nature Reserve is a great place to spend a day, whether you're running, hiking or just having a picnic in the mountains. The views alone make it worth the trip. On clear days you can see Table Mountain in the distance and on some days in July, you'll be walking these trails ankle-deep in snow. Whatever the weather, Mont Rochelle is your destination for adventure.
Permits are R40 per person, children under 16 accompanying a paying adult enter for free and maps are available through the Franschhoek Tourism Office and Huguenot Museum.
So, whether you're a foodie, a family or a mountain fanatic, you'll find that there are plenty of day activities in and around Franschhoek to keep you busy. And if you'd rather stay in and enjoy the mountains, wine and food from the comfort of your luxurious room at Mont d'Or Franschhoek, we'll make sure you feel right at home. Have a look at our different rooms and be sure to check out our specials to see how you can save on accommodation in Franschhoek.