Woordfees
Posted on Mon March 2, 2020.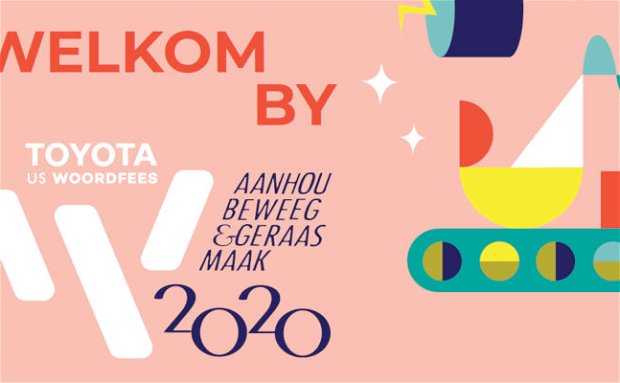 The Toyota SU Woordfees is a unique collaboration that brings together a town, a university, artists, audiences and communities from across our country and many parts of the world to tell the stories of our borders, our differences, our similarities, our fears, our joys, our refuges, our triumphs and our strengths.
Download the programme HERE
The Toyota US Woorfees is a flagship arts festival attracting artists and visitors from across the globe. There are more than 1,000 items on this year's programme – we dig up some of the biggest Woordfees highlights to look out for.
The festival runs from 6 – 15 March 2020 and is divided into writers', music, theatre, film, discourse, visual arts, agriculture and lifestyle sections. With so many Woordfees highlights to choose from, the organisers have people like Deon Meyer, Veronique Jephtas and Fiona van Kerwel to list their picks – but this still only scratches the surface. Herewith our suggestions of some of the other gems of this years Woordfees.
Stellenbosch Visio events at Woordfees
Stellenbosch Visio will present a series of lifestyle events at the 2020 edition of the Woordfees. Herewith a list of our selection of events.
Kerneels, Topkos and Cabernet
Presented by Stellenbosch Visio in collaboration with the restaurant De Warenmarkt and the Stellenbosch Cabernet Collective is sure to be one of the biggest Woordfees highlights. De Warenmarkt's star chef Norman Human conjures Italian-inspired dishes from Dog's Mind, the latest novel by Kerneels Breytenbach, Visio's restaurant writer. The food will be served with local select wines from the Stellenbosch Cabernet Collective. Only 50 seats available, bookings essential.
Date: 10 March 2020, 19:00-21:30
Tickets: R750 each
Venue: De Warenmarkt, 20 Ryneveldstraat
Blomsalon
Get the latest fashion news and practice your floral art in this presentation by Stellenbosch Visio, fashion guru Jackie Burger and flower artist Alwijn Burger. Jackie visits Blomboy in his studio to celebrate the age-old love affair between flowers and beauty. The morning kicks off with "Style sentiment", in which Jackie talks about fashion. Afterwards, guests can enjoy "Bubbles with blossoms", or a glass of sparkling wine with flower infusions.
The afternoon concludes with a workshop and demonstration by Blomboy. Here, guests can get creative with flowers and play, create and socialize.
Date: 11 & 13 March 2020 at 11:00-15:00
Tickets: R1 980 each
Venue: Blomboy Studio, 19 Herte Street, Stellenbosch
Stellenbosch Triennale 2020 – Guided Tour
Presented by Stellenbosch Visio, Toyota US Woordfees Festival-goers can take one of two guided tours of Triennale exhibition, presented by Dr. Mike Mavura (Stellenbosch Academy of Design and Photography) and Francé Beyers (editor of Stellenbosch Visio).
Guests meet at the Woodmill Lifestyle Center, Vredenburg Road, Devon Valley. The Wordfees shuttle service will transport guests and return them to their car.
Date: 9 and 10 March 2020 at 10:00-13:00
Tickets: R300 each
Venue: The Woodmill Lifestyle Centre, Vredenburgweg, Devonvallei. Die Woordfees shuttle service will return guests to their vehicles afterwards.
Snoekbraai at Kanonkop
A cosy affair hosted by Stellenbosch Visio and Kanonkop. A wine tasting on the famous wine farm led by winemaker Abrie Beeslaar is already a festive affair. Add to that the company of RSG's Martelize Brink and the Kanonkop brothers Johann and Paul Krige, plus their legendary spit-braai… and to top it off, throw in the launch of Emile Joubert's great book Kanonkop: The Making of a Legend, published by Tip Africa Publishing and you have a recipe for a kuier like no other.
Date: 11 March, 10:30-13:30
Tickets: R480 each
Number of tickets available: 50
Place: Kanonkop Wine Estate, R44
Kanonkop: The Making of a Legend is available for R495 (Incl VAT)  on the farm during the Woordfees.
Woordfees 2020 debut highlights
Dominique Botha's Vals River debuts as a drama with Anna-Mart van der Merwe, Tinarie van Wyk Loots and Stian Bam. It will be brought to life by Theatrerocket, which has delivered successful pieces such as The Smell of Apples and Camphor to the stage. It can be described as an elegy of a sister to her lost brother. It plays out against the backdrop of a divided South Africa.
Helena Gunter's short story collection Tweespoor has been adapted into a two-woman piece, with actresses Nicole Holm and Inge Crafford Lazarus. Tilla and Fransina are trying to make sense of their life in South Africa today, until one becomes the victim of crime. Superintendents Marinda Engelbrecht and Herman Lessing take the plunge in a different production, Crimplene Cuisine, where they take part in a food competition, but they also make time to discuss other things in between the cooking.

Hits from other festivals
This year's winner of the Zabalaza Festival, The 9th Month; Camp Whore with Sandra Prinsloo and Amy Jephta's All Who Pass are among the top productions of other festivals to be seen. Also featured are Hani: The Legacy about the life of Chris Hani; The things of a child with Cintaine Schutte; Chris Vorster's The Heart Lost, which excelled at the Free State Arts Festival; Retief Scholtz's The Benefits of Egg White; Dana Snyman's Donkey and Jeremeo le Cordeur's "Dude, who's my pickup truck?".
Pieter-Dirk Uys celebrates his 75th birthday in September 2020. To celebrate this milestone, these productions are on the menu: Pieter-Dirk Uys: The three Poggenpoels, Evita: Fake or fop (with Evita Bezuidenhout, Never too Naked (with Bambi Kellerman) and Grandma Ossewania talks dirty.
With more than 1000 items on the bill for Woordfees 2020, there will be something for everyone to enjoy.
– Online: www.woordfees.co.za
– PDF version of programme: http://bit.ly/2rZqCcl
The Stellenbosch Triennale will also be a highlight in early 2020, so the town will be squarely in the spotlight of the global arts fraternity, with visitors from across the world flocking to the historical town.
Other Woordfees highlights

Theatre
All Who Pass by Amy Jephta, in which a woman returns to District Six and is overwhelmed by memories of the last night in the home from which her family was forced
Valsrivier, an adaptation by Saartjie Botha of Dominique Botha's award-winning novel
Die sonkamer by André Gerber with, among others, Antoinette Kellermann and Lida Botha – An intimate look at the elderly in a retirement village.

Dance
For the first time this year, the Woordfees has a full category for contemporary dance, thanks in part to the increase in the number of dance companies in the Cape Metropolis.
Baqamile, created by artist Buhlebezwe Siwani, combines several South African transit rites and uses video, singing, music, soundscapes and dance to create a sensually overwhelming experience.
Krummelpap, afval en sunlightseepbaddens is a compassionate dance narrative interwoven with Ronelda Kamfer's poetry and iconic South African music by, among others, Abdullah Ibrahim and the Soweto String Quartet.

Agriculture
This is another new section consisting of a variety of demonstrations, courses, discourse talks and other presentations.
Writers Festival
Along with the cream of Afrikaans literature, festival-goers will also be able to listen to a host of international writers.
Christy Lefteri (The Beekeeper of Aleppo) from London
Damian Barr (You Will Be Safe Here) from Scotland
Suketu Mehta (Maximum City – Bombay Lost and Found) from New York
Esther Verhoef (Lieve mama) from Amsterdam
Lize Spit (Het smelt) from Belgium
Jodi Picoult (Plain Truth). This American star writer will join the discussion via Skype.
Contemporary sounds
Karoo-Suite 2: Karoonagte, Deon Meyer and Coenie de Villiers' follow up to Karoo Suite
Nataniël: Hoekom hulle swing
Karen Zoid 20 jaar pops, Karen Zoid and the Cape Philharmonic Orchestra
For more information visit the Woordfees website: www.woordfees.co.za
Article can be found at Stellenbosch Visio