Luxury & tranquil accommodation at Mont d'Or Franschhoek
Posted on Mon September 16, 2019.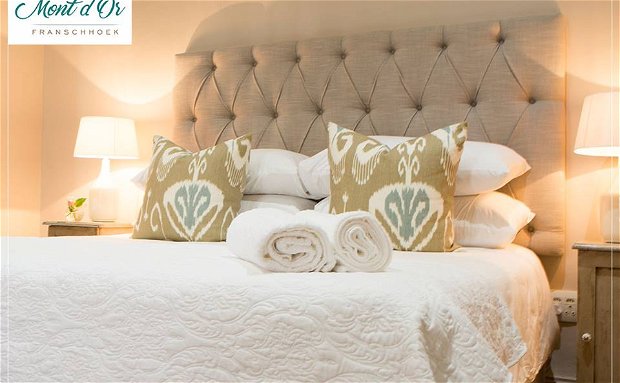 A luxury guesthouse in the heart of Franschhoek, Mont d'Or Franschhoek is a 4-star Bed & Breakfast that offers beautiful rooms and excellent service. With the town centre, just a short walk away; it is the perfect base for exploring the beautiful town of Franschhoek.
Franschhoek is known as the culinary capital of South Africa and has a number of popular restaurants you can visit. You can also sample some incredible wines from their local wine farms and enjoy a unique experience on the famous wine tram.
Accommodation at Mont d'Or Franschhoek

There are three different types of rooms to choose from at Mont d'Or Franschhoek, each one uniquely decorated with a variation of layout and character. Choose between the Loft Rooms, Classic Double Rooms or the Honeymoon & Family Suite.
All rooms come with an en-suite bathroom, air-conditioning, TV with DStv, a mini-fridge, and tea and coffee-making facilities.
The Loft Rooms are the warmest rooms in the guesthouse, making it a great place to stay during the winter. One of the rooms has two single beds while the other comes with a King-sized bed giving travellers and families more flexibility to their stay.
There are five Double Rooms on the ground floor of the main guesthouse and three more in the garden cottage. The rooms have King-sized beds, spacious bathrooms with spacious showers; two of which also come with a bathtub.
Couples looking for a romantic escape or families in need of a relaxing break can enjoy the Honeymoon & Family Suite. The suite is spacious with a high ceiling and comes with a King-sized bed on the ground floor and two single beds on the mezzanine, a spacious bathroom with a shower and bathtub big enough for two. The honeymoon suite opens directly onto the beautiful gardens and pool area of Mont d'Or Franschhoek.
Facilities & breakfast at Mont d'Or Franschhoek

The general manager, Hanli, originally from a farm in the area, is a wonderful host and has a hands-on approach; ensuring guests' needs are always fulfilled.
A fresh and healthy breakfast can be enjoyed every morning at Mont d'Or Franschhoek. The breakfast spread is freshly baked in house and guests will be spoiled by Hanli's homemade bread, pastries, rusks, jams and preserves.
After enjoying Hanli's treats, you will have all the energy you need to explore the beautiful village of Franschhoek and what it has to offer.
As the culinary capital of the country, you can enjoy a delicious lunch and dinner anywhere in town.
Free and secure parking is available on the premises for your peace of mind and you can access the free Wi-Fi of the guesthouse from anywhere on the premises. The large swimming pool provides the perfect place for you to cool down during the hot summer days.
Mont d'Or has its own Spa onsite that provides all kinds of massage and beauty treatments. Their highly trained staff specialise in therapeutic massage styles that help relieve stress and make your stay all the more relaxing.
Top reasons for staying at Mont d'Or Franschhoek:
The guesthouse is set in the heart of Franschhoek.
The rooms are spacious and beautifully decorated.
The guesthouse has its own onsite spa where you can enjoy a relaxing spa treatment.
The owners and staff are friendly and helpful.
You can enjoy a delicious healthy breakfast every morning.

To find out more about Mont d'Or Franschhoek, give them a call on 021 876 2293, or email [email protected]. Visit their website at www.montdorfhk.co.za. Find them on Google Maps.